21st Century Cures Act Requirements for 2022
Key compliance dates in response to COVID's PHE.
On December 13th, 2016 the 21st Century Cures Act was signed into law by the 114th United States Congress. It authorized $6.3 billion in funding with the goal of "Access and Choice" for Healthcare entities. To drive the theme of "Access and Choice", the Act was written to:
Provide seamless and secure access of Electronic Health Information
Increase innovation and competition by fostering an ecosystem of new applications
Encourage adoption of standardized Application Programming Interfaces (API)
Prevent Information Blocking
Impact areas such as Fast Healthcare Interoperability Resources (FHIR), Information Blocking, SMART IG/OAuth2.0, and much more
On December 4th, 2020, the Office of the National Coordinator for Health Information Technology (ONC) and Department of Health and Human Services (HHS) published an Interim Final Rule with new extended compliance dates in response to the COVID-19 Public Health Emergency (PHE). This Trexin Insight Paper (TIP) calls out the extended due dates with their changes focusing on 2022 and 2023.
In light of the COVID-19 PHE, the Interim Final Rule with Comment (IFC) extends the applicability date for the information blocking provisions, compliance dates, and timeframes for certain Program requirements, including compliance dates for certain 2015 Edition health IT certification criteria and Conditions and Maintenance of Certification requirements. Below are three Provisions with their new compliance date.
The IFC also extended compliance dates and timeframes for certain 2015 Edition certification criteria under 45 CFR part 170. Part 170 includes the standards, implementation specifications, and certification criteria applied to health information technology and the testing and certifications of Health IT Modules.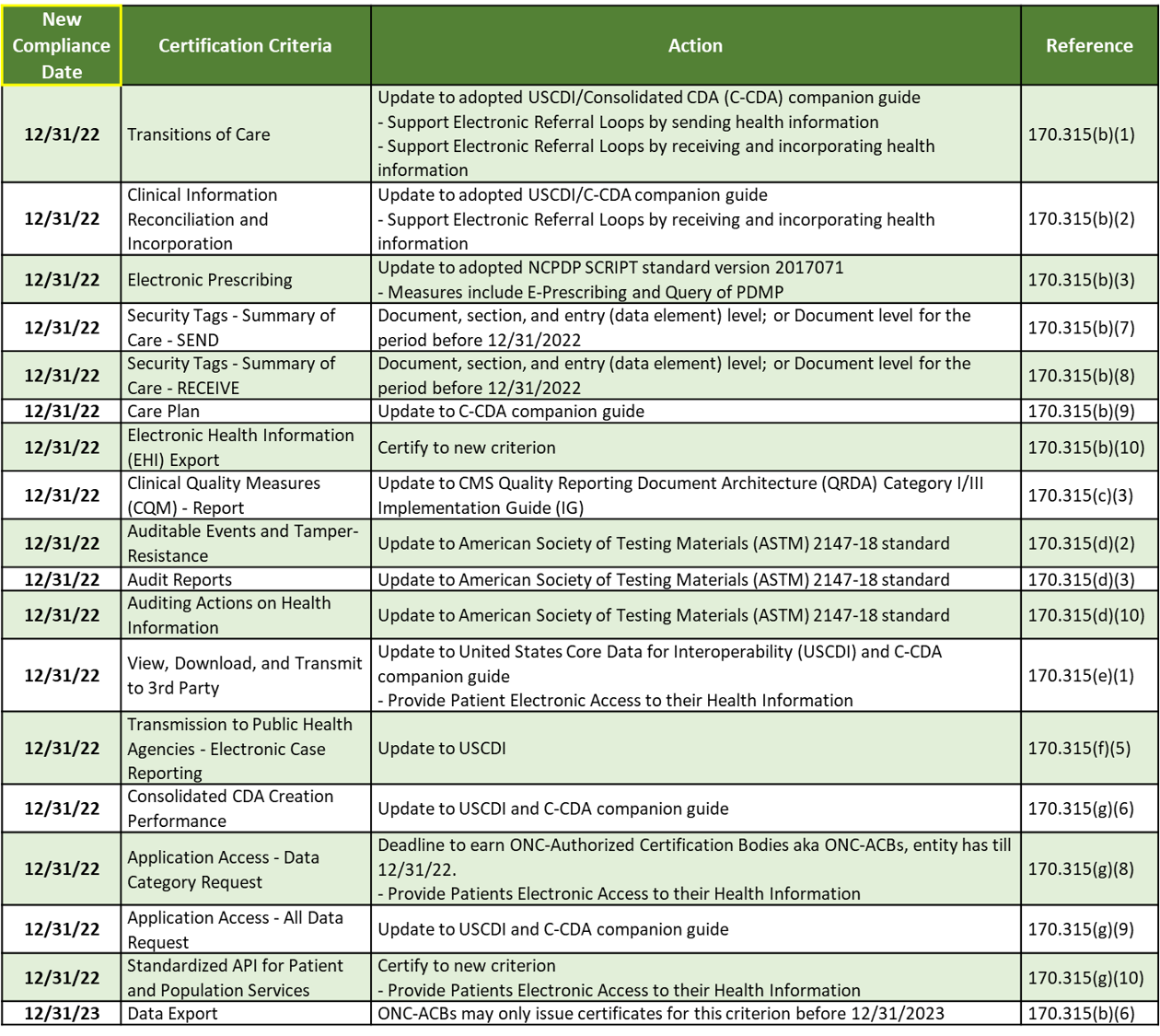 These 18 requirements can be categorized into 8 areas:
Clinical Processes
Care Coordination
Electronic Exchange
Health IT Design & Performance
Clinical Quality Measurement
Privacy & Security
Patient Engagement
Public Health
With 17 2015 Edition Criteria requirements due by the end of the year, Trexin can help you assess your current status on each requirement, develop a roadmap, and execute an implementation plan to help you earn your ONC Certified Health IT certification.
References:
Information Blocking and the ONC Health IT Certification Program: Extension of Compliance Dates and Timeframes in Response to the COVID-19 Public Health Emergency, Federal Register :: Information Blocking and the ONC Health IT Certification Program: Extension of Compliance Dates and Timeframes in Response to the COVID-19 Public Health Emergency
21st Century Cures Act PUBL255.PS (congress.gov)
Understanding 2015 Certified Health IT image 2015 Edition | HealthIT.gov