Innovative Strategies for Integrated Care
Chicago, IL
Based in Chicago, Health and Medicine Policy Research Group (HMPRG) sponsors events throughout the year to explore new health policy ideas and bring together health policy expert to share lessons learned and best practices to improve population health.
On Wednesday, June 21st, HMPRG convened a forum of about 100 healthcare providers, health policy analysts, advocates and consumer representatives to discuss the effective strategies, consistent barriers and anticipated benefits of greater integration between behavioral health and primary care. Trexin's Laura Zaremba was among the attendees who enjoyed the various presentations and workshops.
The forum started with an overview of progress to date for HMPRGs Behavioral Health-Primary Care Integration Learning Collaborative, which has been operating for two years to engage policy, advocacy and provider organizations in Illinois to advance solutions for better integrated care and health outcomes.
The Learning Collaborative's three workgroups presented their progress on data exchange, hospital transitional care and financial sustainability. Representatives highlighted the challenges of coordinating the transition of patients back to their homes following a psychiatric hospitalization and maintaining a financially sustainable model of care that integrates behavioral health and primary care.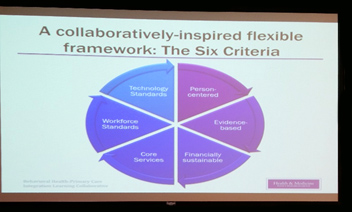 Additional panel presentations focused on integrated care in the context of ongoing Medicaid reforms in Illinois and the continued expansion of Medicaid managed care. Representatives from Illinois State agencies outlined the intent of Illinois' pending Section 1115 Medicaid waiver to advance the concept of Integrated Health Homes and the statewide Medicaid managed care re-procurement's goals to improve care coordination for Medicaid managed care members, particularly those with co-occurring behavioral and physical health conditions.
The panel included presentations from clients of behavioral health services, who shared their positive and negative experiences with transitions of care from one provider to another, with the impact of changing health insurance coverage on care continuity and the unique challenges of maintaining appropriate healthcare services when experiencing a mental illness.
Information about the Behavioral Health-Primary Care Learning Collaborative is available here: http://bit.ly/2sYoIHl.